Inside this Issue:

Announcing the following:

Upcoming release of the book, Happy About(tm) Outsourcing
Working on a book on the 2005 Economy
Subject: Nov-Dec 2004 eZine: Releasing Outsourcing Book, working on a Book on the 2005 Economy

Value Framework® Institute eZine: Your Link to Business Strategy
November 16, 2004 *5,400 subscribers* Volume 6, Issue 6
Online at http://ValueFrameworkInstitute.org/publications.html
This Issue online at http://ValueFrameworkInstitute.org/Nov-Dec2004/
---
In this issue, we wanted to let you know that we're working on two books. First, we're finishing up the details of an outsourcing book called Happy About™ Outsourcing, however, you can enjoy the book now for $3.95 ($1 off the retail price).
"Happy About™ Outsourcing: Over 25 Postive Impact Stories from Executives Who Have Offshored and Outsourced" explores the controversial topic of Outsourcing. It contains 80 pages with quotes and contributions from executives who have "Been There and Done That!". You will learn from some insightful stories and case studies. This book comes with a 30-day money-back guarantee. Read more and order today!
Second, we are also working on a book on the 2005 economy. Stay tuned for more info.
If you have any questions, please feel free to e-mail me.
Best regards,
Mitchell Levy
CEO & Chief Strategist, Value Framework® Institute

---
Signup for our bi-monthly eZine
Enter your e-mail address below and click on 'signup'

---
SPONSOR'S CORNER
Happy About
Happy About writes and publishes books for corporations the utililze case studies, testimonials and war stories from those that have "Been There and Done That!". Check our books or white papers.
Contact us if you are a company that would like us to write a book for you or an author that would like to submit a book.
Pick up a book and let us know what you think. We want your feedback. Check out HappyAbout™ Outsourcing
***************************
Silicon Valley Executive Business Program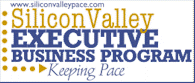 The Silicon Valley Executive Business Program is a unique program that explores business from a CEO's perspective. Students learn from and understand what CEOs are looking for in their people and organizations, especially from C-Level Staff (CXOs). A key element of the program is its practical vs. theoretical focus.


Read more at "SiliconValleyPace.com", get info by e-mailing (info@siliconvalleypace.com) or calling 408-257-3000.
***************************
CEOnetworking


CEOnetworking is a membership organization based in Silicon Valley for Presidents, CEOs and business owners in the high-tech industry. The organization provides an environment where CEOs can share opportunities to help each other succeed.


Read more at "CEOnetworking", contact us about membership by e-mail (info@ceonetworking.com) or phone Mitchell Levy, Thomas Hong, or Joe Hughes at 408-404-6758.
***************************
Media Attention Now
Get Your "Media Attention Now™" with a pay-for-performance expert publicist model. Inexpensive prices with guaranteed results or your money back. An unbeatable PR package.
Contact Ericka Wilcox by e-mail (medianow@ecnow.com) or phone (413-243-6661).
***************************
ECnow.com is a management consulting firm helping companies grow with strategic consulting and targeted business education. The strategic consulting component focuses on helping companies create and manage the business the models that drive their value.


PLEASE contact us by e-mail (info@ecnow.com) or phone (408-257-3000) if you are a potential client wondering if we can help you or if you are a potential partner wondering about a potential partnership.
---
SHARING THE VALUE FRAMEWORK® INSTITUTE EZINE
Please forward this eZine to friends and colleagues who will find it valuable. For copyright purposes, we must ask that it be distributed in its complete form. View past issues and signup to receive it at this location: http://ValueFrameworkInstitute.org/Publications/ or subscribe @ ValueFrameworkInstitute.org?subject=Nov-Dec2004+subscribe

This newsletter is 100% opt-in. You are receiving it because you have requested to receive it in the past. If you no longer wish to receive it, please let us know either on-line http://ValueFrameworkInstitute.org/signup.htm or via e-mail eZine.cancel @ ValueFrameworkInstitute.org.
Executive Producer, Mitchell Levy (info @ ValueFrameworkInstitute.org)
Copy Editor, Tejashree Uppala (info @ ValueFrameworkInstitute.org)
Back to the main eZine Page (http://ValueFrameworkInstitute.org/Publications/)
Back to this issue: (http://ValueFrameworkInstitute.org/Nov-Dec2004/)