Inside this Issue:

"Happy About Knowing What to Expect in 2007"
Subject: Jan-Mar 2007 eZine: "Happy About Knowing What to Expect in 2007"

Value Framework® Institute eZine: Your Link to Business Strategy
January 12, 2007 *5,500 subscribers* Volume 9, Issue 1
Online at http://ValueFrameworkInstitute.org/publications.html
This Issue online at http://ValueFrameworkInstitute.org/Jan-Mar2007/
---
Predictions from "Happy About Knowing What to Expect in 2007"

"Global warming will be recognized as a serious issue by all political factions and alternative fuel sources will become more acceptable including nuclear power generation...."
Andrew 'Flip' Filipowski, Owner, Chairman & CEO, SilkRoad equity, Inc.

"Businesses will become interactive with customers to create new versions of products and services of all kinds, from food to toys to manufactured business supplies."
Brock Hinzmann, Technology Navigator, SRI Consulting Business Intelligence

"The Internet will continue to grab mindshare and leisure time from the US population, as people transform their use of the Internet from 'search and retrieve' to 'receive and interact.' "
Buddy Arnheim, Partner/Member of Firm's Executive Committee, Perkins Coie LLP

"Entrepreneurism and innovation are driving the collective consciousness of Japan to strive with great intensity toward another economic transformation every bit as big as the one Demming helped catalyze in the 1950's."
Kimberly Wiefling, Founder and President, Wiefling Consulting
"Google will continue to defeat everyone in monetizing search and expanding its franchises...The stock will move past $750 a share on its way to $1000."
Jeffrey S. Young, Author, Rose Springs
---
Book: Happy About Knowing What to Expect in 2007: Getting a Handle on the Year Ahead

Wouldn't it be great to have a good handle on what will happen this year to make sure you could plan around it? This book provides a series of answers. For 2007, we have contributions from 50 executives with a number of interesting predictions.

Here are the top 10 trends for 2007
#01 - Global Warming/Environmental Concerns Effect Business

#02 - Energy Continues to Take Center Stage

#03 - The Internet Continues to Grab Mindshare by Getting Incorporated into Daily Processes

#04 - The World Continues Going Mobile

#05 - Marketing Starts Moving from an "Art" to a "Science"

#06 - The US Dollar Becomes Less Important

#07 - Capitalism Continues to Spread Throughout the World

#08 - Rapid Adoption of Mass Customization

#09 - Software Continues to Morph

#10 - Online Networking Becomes a Key Business Asset

Industries/Trends to Watch

Fun Predictions We Couldn't Resist Including

The book contains the trends since 1998. For 2007, we include predictions from over 50 experts like the predictions above. This is a great read and will help you understand what's coming this year and next.
About the Author

Mitchell Levy is Director of the innovative Silicon Valley Executive Business Program and the Chairman and partner of CEOnetworking. Mr. Levy is also President and CEO of ECnow.com, a Management Consulting firm helping company's grow with strategic consulting and targeted business education, author of the books E-Volve-or-Die.com, Happy About Outsourcing, and Happy About Knowing What to Expect in 2005, 2006 and 2007, creator of the Value Framework®, and on the board of directors of Rainmaker Systems (NASDAQ: RMKR). He is the former Chair of comdex.biz at Comdex Fall and was at Sun Microsystems for 9 years, during the last four of which he managed the e-commerce component of Sun's $3.5 billion supply chain. He is a popular speaker, lecturing on business and management issues throughout the U.S. and around the world.
100% Money Back Guarantee:
Our books offer a 100% money back guarantee. Pick up one today and see if you agree with our other customers that have enjoyed our books.
---
Signup for our bi-monthly eZine
Enter your e-mail address below and click on 'signup'

---
SPONSOR'S CORNER
Happy About
Happy About writes and publishes books for corporations the utililze case studies, testimonials and war stories from those that have "Been There and Done That!". Check our books or white papers.
Contact us if you are a company that would like us to write a book for you or an author that would like to submit a book.
***************************
Silicon Valley Executive Business Program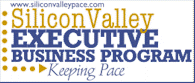 The Silicon Valley Executive Business Program is a unique program that explores business from a CEO's perspective. Students learn from and understand what CEOs are looking for in their people and organizations, especially from C-Level Staff (CXOs). A key element of the program is its practical vs. theoretical focus.


Read more at "SiliconValleyPace.com", get info by e-mailing (info@siliconvalleypace.com) or calling 408-257-3000.
---
SHARING THE VALUE FRAMEWORK® INSTITUTE EZINE
Please forward this eZine to friends and colleagues who will find it valuable. For copyright purposes, we must ask that it be distributed in its complete form. View past issues and signup to receive it at this location: http://ValueFrameworkInstitute.org/Publications/ or subscribe @ ValueFrameworkInstitute.org?subject=Jan-Mar2007+subscribe

This newsletter is 100% opt-in. You are receiving it because you have requested to receive it in the past. If you no longer wish to receive it, please let us know either on-line http://ValueFrameworkInstitute.org/signup.htm or via e-mail eZine.cancel @ ValueFrameworkInstitute.org.
Executive Producer, Mitchell Levy (info @ ValueFrameworkInstitute.org)

Back to the main eZine Page (http://ValueFrameworkInstitute.org/Publications/)
Back to this issue: (http://ValueFrameworkInstitute.org/Jan-Mar2007)