Inside this Issue:

"Confessions of a Resilient Entrepreneur"
Subject: Apr-May 2007 eZine: "Confessions of a Resilient Entrepreneur"

Value Framework® Institute eZine: Your Link to Business Strategy
May 1, 2007 *5,500 subscribers* Volume 9, Issue 2
Online at http://ValueFrameworkInstitute.org/publications.html
This Issue online at http://ValueFrameworkInstitute.org/Apr-May2007/
---
Summary of ' Confessions of a Resilient Entrepreneur '

"Confessions of a Resilient Entrepreneur: Persevering to Success" demonstrates the balancing act that women - and men - have to perform in order to integrate a business life with a family life. Confessions speaks to the starry-eyed young entrepreneur who has big business ideas but no idea of what it takes to have it all, as well as the well-established business leader who has achieved success and now wants to somehow fit a life into those dreams. It describes and encourages the attitudes and belief systems that "grow" an entrepreneur - and illustrates what happens when those attitudes and belief systems come up against hard reality.

Written in easy, conversational prose, 'Confessions of a Resilient Entrepreneur' relays the experiences of executive coach Frumi Rachel Barr, PhD, as she discovers the hidden lessons of entrepreneurship, and has to apply them in the face of some of life's harshest realities: rape, cancer, gender discrimination, multiple divorce, and national scandal. It reveals how the
systems and strategies that serve her so well in business also help her achieve and enjoy some of life's greatest pleasures: four wonderful children, a succession of beautiful homes in two countries, and the opportunity for unrestricted growth.

---
Book: Confessions of a Resilient Entrepreneur: Persevering to Success

This book not only appeals to readers interested in business, memoirs and life coaching; it is sure to be a hit with women of all ages, regardless of their business aspirations.
---
Praise for "Confessions of a Resilient Entrepreneur"
"No one is better equipped to coach and nurture female entrepreneurs than Frumi, herself a successful entrepreneur, mother, friend and community leader. If 'The Little Engine That Could' were re-written just for women entrepreneurs, 'Confessions of a Resilient Entrepreneur' would be it. Frumi understands an entrepreneur's excitement, temptations and fears intimately because she's 'been there, done that.' Reading her story is like swallowing a big dose of courage. You feel as though you could overcome anything because she has faced life's hardest challenges with aplomb and transformed herself into a stronger, happier and better woman each time."
Cara Good, President, WunderMarx Inc.

"The Frumi Fix is a recipe for turning yourself inside out so your true self can shine. Frumi reminds us it is in the stew of our total life experiences that we have every ingredient necessary to create, and serve, our special offering to others. What she delivers is not her personal ingredient list, rather the inspiration and courage to mix up our own ­- from the inside out. And that's the magic. Once you've digested the Confessions and get your first taste of The Frumi Fix, you'll experience inside-out at it's best. And I guarantee you'll return for a daily helping."
Ann Hult Crowell, A Recovering CEO, Author & Speaker

"Frumi Rachel Barr inspires us to not let catastrophes get in the way of our success. Sure, things can get crummy, but if we keep our focus up and our eyes open, we'll see doors open for us. In experience after experience, Frumi illustrates how asking ourselves the right questions allows the best answers to show up. Frumi's book is a page turner, and I loved the advice she gives at the end. This special book is a keeper!"
Joanne Rodasta Wilshin, Author 'Take a Moment and Create Your Life!'

"Don't miss this book filled with personal courage as Frumi bares her soul telling how she overcame whatever obstacles were put in her way. Resilience is Frumi's authentic real deal -- what it takes to create a purposeful, fulfilling life. A definite must read for everyone (not just women) who wonders if they have what it takes to follow their dreams."
Marilyn August, Author, 'Journey to Wealth & Wisdom'
Table of Contents:

IntrodIntroduction: What is an entrepreneur

Part I: Frumi's Story


Chapter 1: Hatched for Success

Chapter 2: Starting Out Strong

Chapter 3: Setbacks are for Working Through

Chapter 4: New Adventures

Chapter 5: Another Stale Marriage

Chapter 6: I Got the Clocks

Chapter 7: Out with the Old, In with the New

Chapter 8: Moving Out, Moving Up, Moving On

Chapter 9: Building—and Breaking—From Scratch

Chapter 10: New Company

Chapter 11: New Man

Chapter 12: New Me


Part II: Your Frumi Fix


Chapter 13: How Coaching Works

Chapter 14: What Really Matters

Chapter 15: Where Are You Now

Chapter 16: Work and Family


Epilogue

Appendix A: Book Summaries
About the Author

Frumi Rachel Barr, PhD, a veteran entrepreneur, has founded or been a partner in numerous companies, holding both Chief Executive Officer (CEO) and Chief Financial Officer (CFO) positions. Her hands-on experience ranges from manufacturing to service industries to direct-marketing enterprises; her consulting and coaching experience has taken her into virtually every type of corporation and small business. Her success has been so encompassing that clients, associates, and fellow coaches have dubbed her a "Catalyst for Change."

Dr. Barr specializes in inspiring leaders to rediscover the strengths and values that energize them so they can, in turn, renew their colleagues, employees and business operations and has a proven track record for helping entrepreneurs and leaders balance the needs of growing their businesses and with the needs of their personal and family lives.

Dr. Barr holds a Bachelor of Physical Therapy (BPT) from McGill University in Montreal, Canada, a Masters in Business Administration (MBA) from California State University, Fullerton, California (CSUF), a Coaching Certification from Hudson Institute, Santa Barbara, California and a doctorate in Business Administration from Pacific Western University. She is a board member of The Entrepreneurship Institute in Orange County and immediate Past President of the National Board of the Professional Coaching and Mentors Association (PCMA). She has also been a member of the advisory board for Chapman University's new Business Coaching Certification Program, International Coaching Federation (ICF), and the Mentorship Program of NAWBO (National Association of Women Business Owners).
100% Money Back Guarantee:
Our books offer a 100% money back guarantee. Pick up one today and see if you agree with our other customers that have enjoyed our books.
---
Signup for our bi-monthly eZine
Enter your e-mail address below and click on 'signup'

---
SPONSOR'S CORNER
Happy About®
Create thought leadership and drive lead generation through books. Happy About is a quick2publish book publisher that makes it much easier to publish your book (or book series). We have two primary business models to serve you.

If you're an author, we help you get your book to market quicker and share significantly higher royalty rates.

If you're a corporation that wants to have a book or book series, we manage the ghost writers and the book publishing process. We also create white papers, podcasts, blogs and other marketing material through our 137 technical writers.
Contact us by writing to info @ happyabout.info
***************************
Silicon Valley Executive Business Program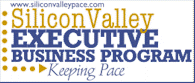 The Silicon Valley Executive Business Program is a unique program that explores business from a CEO's perspective. Students learn from and understand what CEOs are looking for in their people and organizations, especially from C-Level Staff (CXOs). A key element of the program is its practical vs. theoretical focus.


Read more at "SiliconValleyPace.com", get info by e-mailing (info@siliconvalleypace.com) or calling 408-257-3000.
---
SHARING THE VALUE FRAMEWORK® INSTITUTE EZINE
Please forward this eZine to friends and colleagues who will find it valuable. For copyright purposes, we must ask that it be distributed in its complete form. View past issues and signup to receive it at this location: http://ValueFrameworkInstitute.org/Publications/ or subscribe @ ValueFrameworkInstitute.org?subject=Apr-May2007+subscribe

This newsletter is 100% opt-in. You are receiving it because you have requested to receive it in the past. If you no longer wish to receive it, please let us know either on-line http://ValueFrameworkInstitute.org/signup.htm or via e-mail eZine.cancel @ ValueFrameworkInstitute.org.
Executive Producer, Mitchell Levy (info @ ValueFrameworkInstitute.org)

Back to the main eZine Page (http://ValueFrameworkInstitute.org/Publications/)
Back to this issue: (http://ValueFrameworkInstitute.org/Apr-May2007)