Inside this Issue:

Announcing "Happy About LinkedIn for Recruiting"
Subject: Apr-Jun 2006 eZine: Free Job Posting from LinkedIn

Value Framework® Institute eZine: Your Link to Business Strategy
April 1, 2006 *5,500 subscribers* Volume 8, Issue 2
Online at http://ValueFrameworkInstitute.org/publications.html
This Issue online at http://ValueFrameworkInstitute.org/Apr-Jun2006/
---
In this issue, I wanted to let you know about the new book "Happy About LinkedIn for Recruiting"
This book is priced higher than traditional books since it's a podbook. Not only do you get an eBook or tradebook, you receive access to a password controlled site where you have access to the 12 hours of raw interviews. You also receive a $95 job posting from LinkedIn for free as well as over $450 in other offers (see e-mail below for more details). Although the book will be available for a while, these offers are available for a limited time. Since the book comes with a money-back guarantee, why don't you buy it, learn how to use LinkedIn effectively, and take advantage of these offers(1). You will be glad you did!
With "Happy About LinkedIn for Recruiting" you will learn:
Why big biller recruiters see LinkedIn as a very effective way to market their services and build their networks (and how they do that!)


Why LinkedIn is the smart way to start a search for candidates and often the best tool to complete a search


How you can use LinkedIn to find and develop new business in a trust-based network


How using LinkedIn effectively can turn what would once have been cold calls into warm calls, with door-opening introductions and third party endorsements.
If have any questions please feel free to contact me directly.
Best regards,
Mitchell Levy, Publisher & CEO, Happy About
Chief Strategy Office, The Value Framework Institute
publisher @ happyabout.info, 408-257-3000
When you buy this book, you will also receive:
Reviews of "Happy About LinkedIn For Recruiting"
"Having created the first job board on the Internet and watching/supporting the industry as President of Monster and now as Executive Director of Direct Employers Association, I have a broad view of the overall recruiting marketplace. If you are a recruiter today, you should be using LinkedIn as one of the tools in your arsenal. If you are using LinkedIn as a recruiter, you need to read this book to pick up some of the hidden nuggets that often take months, if not years to unravel."
Bill Warren, Founder and Executive Director of Direct Employers Association

"If the primary goal of recruiting and search professionals is to cash fee checks from happy clients - and it is - then 'Happy About Linked In for Recruiting' is a tremendous leap forward in making that happen. This book and the use of LinkedIn is truly an innovation in recruiting!"
Paul Hawkinson, Publisher - The Fordyce Letter (www.fordyceletter.com)

"Reading Happy About LinkedIn for Recruiting was like having a conversation with 100 Different industry professionals all at the same time. This is the definitive guide for recruiters looking to utilize all that LinkedIn has to offer."
Jason Patino, Division Head, Latitude Technical Resources

"Bill Vick is a visionary who has been on the cutting edge of technology his entire career. 'Happy About LinkedIn for Recruiting' is another example of Bill developing a tool that will turbo charge your recruiting and marketing efforts. LinkedIn allows you to develop rapport and relationships with individuals who will dramatically increase your ability to reach levels of top production. It is important today to utilize cutting edge tools available, in order for you to "stand out from the crowd."
Barbara J. Bruno, CPC, President - Good as Gold Training, Past NAPS Chairman of the Board

"I picked up a copy of the book and it is AWESOME! It is geared towards recruiters and gives us tips on how best to use LinkedIn. I highly recommend everyone buying a copy."
Tanya Steffen, Recruiter, Right Staff
About the Authors
Bill Vick (LinkedIn profile) spent his early career in executive sales and marketing management with F500 companies focusing on the consumer products industry, computer retail and software industries. He joined Management Recruiters International in 1986 as a recruiter where he was their National Rookie of the year. Subsequent to that, Bill ran his own retained search firm, Vick & Associates which he still maintains.

In 1991, Bill formed Solo System, which produced software for the staffing industry
In 1996, he sold his recruiting business and software company to focus exclusively on the Internet where he founded Ad-Cast, a collection of internet companies which included Recruiters OnLine Network (RON), a top 100 site, HR.Net, and TheTalentBank.net
In 2002, he sold the Ad-Cast collection of companies and launched three not for profit Web sites focusing on recruitment and employment issues, XtremeRecruiting.org, ThePhoenixLink.com, and EmploymentDigest.net

He was a founder and board member of the Pinnacle Society recognizing achievement in the staffing industry, a national speaker for National Association of Personnel Consultants (NAPS), served on the Board of Directors of The Texas Association of Personnel Services (TAPS), was an officer with the Metroplex Association of Personnel Services (MAPS) and a founder of the local Dallas Independent Recruiters Group (IRG). He is an active speaker, and writer on career issues, recruiting trends and employment technology.

Des Walsh (LinkedIn profile) is a business coach and blogging evangelist, with lengthy experience as an executive and consultant in both the public and private sectors. He has authored or co-authored reports and manuals, in diverse fields from government policy in education and the arts, to training manuals for executives in the transport industry.

Des is currently a business coach and specializes in supporting business owners wanting to make effective use of blogging and other social networking tools. He is a founding member of the International Association of Coaches and a member of Coachville.com. A member of several LinkedIn groups, Des is moderator of the LinkedIn Bloggers group.
100% Money Back Guarantee:
Our books offer a 100% money back guarantee. Pick up one today and see if you agree with our other customers that have enjoyed our books.
---
Signup for our bi-monthly eZine
Enter your e-mail address below and click on 'signup'

---
SPONSOR'S CORNER
Happy About
Happy About writes and publishes books for corporations the utililze case studies, testimonials and war stories from those that have "Been There and Done That!". Check our books or white papers.
Contact us if you are a company that would like us to write a book for you or an author that would like to submit a book.
***************************
CEOnetworking
It's lonely at the top! There can be no better network than one of your peers to share your issues and get suggested solutions. CEOnetworking is a membership organization based in Silicon Valley that puts 6-8 CEOs in a room once a month to talk about issues and brain-storm ideas. These highly-facilitated meetings are geared toward helping CEO's and their companies achieve success. It is a quick way of creating a peer-based virtual board that does not have a vested interest in your company. Not only will you help your company reach the next level, you'll have the chance to give feedback, share advice, and watch other companies succeed. Let us know if you'd like to test-drive a meeting.


Read more at "CEOnetworking", contact us about membership by e-mail (info@ceonetworking.com) or phone Mitchell Levy, or Thomas Hong, at 408-404-6758.
***************************
Silicon Valley Executive Business Program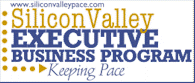 The Silicon Valley Executive Business Program is a unique program that explores business from a CEO's perspective. Students learn from and understand what CEOs are looking for in their people and organizations, especially from C-Level Staff (CXOs). A key element of the program is its practical vs. theoretical focus.


Read more at "SiliconValleyPace.com", get info by e-mailing (info@siliconvalleypace.com) or calling 408-257-3000.
***************************
ECnow.com, Inc.
ECnow.com is a management consulting firm helping companies grow with strategic consulting and targeted business education. The strategic consulting component focuses on helping companies create and manage the business the models that drive their value.


PLEASE contact us by e-mail (info@ecnow.com) or phone (408-257-3000) if you are a potential client wondering if we can help you or if you are a potential partner wondering about a potential partnership.
---
SHARING THE VALUE FRAMEWORK® INSTITUTE EZINE
Please forward this eZine to friends and colleagues who will find it valuable. For copyright purposes, we must ask that it be distributed in its complete form. View past issues and signup to receive it at this location: http://ValueFrameworkInstitute.org/Publications/ or subscribe @ ValueFrameworkInstitute.org?subject=Apr-Jun2006+subscribe

This newsletter is 100% opt-in. You are receiving it because you have requested to receive it in the past. If you no longer wish to receive it, please let us know either on-line http://ValueFrameworkInstitute.org/signup.htm or via e-mail eZine.cancel @ ValueFrameworkInstitute.org.
Executive Producer, Mitchell Levy (info @ ValueFrameworkInstitute.org)
Copy Editor, Tejashree Uppala (info @ ValueFrameworkInstitute.org)
Back to the main eZine Page (http://ValueFrameworkInstitute.org/Publications/)
Back to this issue: (http://ValueFrameworkInstitute.org/Apr-Jun2006)