neoIT™

neoIT™ is a global IT services online marketplace and consulting company. We are a leading neutral marketplace and global solution for outsourcing software development and other IT services. neoIT solutions are accessed through an online channel or as a traditional consulting engagement.
Please feel free to contact Atul Vashistha, Co-Founder & Team Leader, at atul@neoIT.com for any questions or suggestions.
***************************
Fort Point Partners


Fort Point Partners is an Internet services firm providing strategic consulting and systems integration to empower eSelling(tm). More than 40 businesses such as Hewlett-Packard, BlueLight.com and J.Crew use Fort Point Partners' eSelling business practice to drive sales across multiple channels. eSelling focuses on developing end-to-end technology to create competitive selling advantages in the most profitable part of e-commerce, wherever buyers and sellers meet.
Learn more at http://www.fortpointpartners.com
***************************
Delano Technology Corporation




Delano Technology Corporation is a provider of interaction-based e-business solutions that enable an organization to interact with the extended enterprise, for fast measurable results.
"Building e-Businesses with Unparalleled Velocity"
***************************
E-Volve-or-Die.com: Thriving in the Internet-Age Through E-Commerce Management Author: Mitchell Levy


E-Volve-or-Die.com helps the reader figure out how to help transition their company or suffer the same death of the dinosaur. With 12 forewords, and 45 of the world's top ECM experts, Levy can help your company with the biggest industrial transition the business world has faced in the last 100 years.
You can read more about "E-Volve-or-Die.com" at the official Web site: http://www.e-volve-or-die.com. The book is available at all online and offline stores today.
http://www.amazon.com/exec/obidos/ASIN/0735710287/ecnowcom/105-3011082-5903959
***************************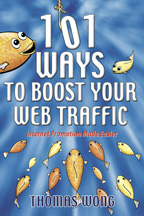 "Does your Web site attract sufficient traffic? Most Web sites don't, says Thomas Wong, best-selling author of "101 Ways to Boost Your Web Traffic,
http://www.amazon.com/exec/obidos/ASIN/0963834959/ecnowcom/."
In fact, 55% of Web sites seldom receive any visitors at all even though they have invested thousands in developing their Web site. His book will engage and inspire you with 101 of the most successful Web development and promotion techniques used by popular sites. You will master the technology and psychology that make it possible to gain more Web traffic with a tight budget. No matter whom your Web site is designed for, you can apply these techniques immediately for your own benefits and with measurable results.
Back to the main ECMgt.com Page (http://ECMgt.com)
Back to this issue: (http://ECMgt.com/Jun2001)
ECMgt.com is produced by ECnow.com (http://ecnow.com)
Copyright © 1999-2009 by ECnow.com, Inc., All rights reserved
21265 Stevens Creek Blvd., Suite 205
Cupertino, CA 95014, 408-257-3000 (Tel), 603-843-0769 (eFax)
E-mail: General (VMS3.Executive.Producer@ecnow.com)
Webmaster (webmaster@ecnow.com)